I am adding this Vegetarian Tortilla Soup Recipe by
101 Cookbooks
to my list of "recipes to make" when the kitchen is done. Check it out...
yummmm
.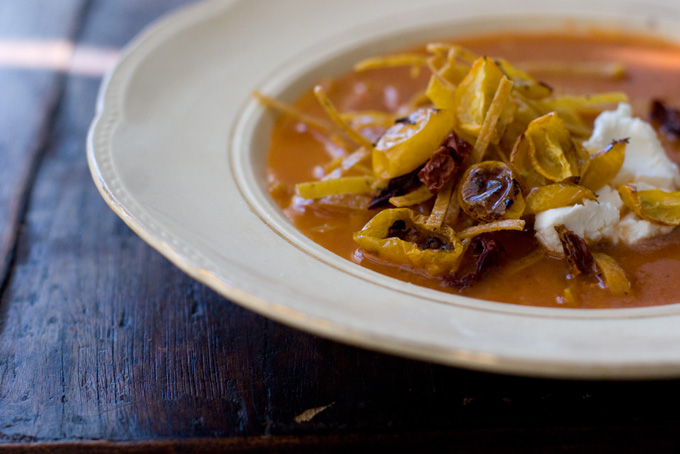 Vegetarian Tortilla Soup Recipe
This is my take on tortilla soup - a full-bodied, spicy vegetarian broth envelops a nest of baked tortilla matchsticks. Tiny roasted tomatoes along with a bit of goat cheese lend tang and texture, and flecks of sun-dried tomatoes bring depth and richness to each bowl. Many tortilla soup recipes call for egregious amounts of shredded cheese, but I've found that a bit crumbled goat cheese lends just the right amount of creaminess, without throwing everything out of whack nutritionally.
There are a thousand ways you can remix this recipe based on your personal preferences or what looks good at your local markets. If I'm after a one dish meal, I'll add some grilled (or smoked) tofu, or a poached egg. If I feel I need greens as well, I'll toss in some shredded chard or spinach. For a more typical take you might (instead) finish the soup with sliced avocado and/or cilantro, chopped white onions, and a squeeze of lime.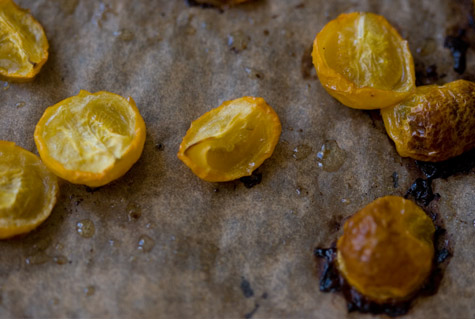 This is clearly what happens when a tortilla soup meets a California pantry - with the cherry tomatoes and local goat cheese. That being said, I'm hoping my remix will inspire you to try you own using whatever ingredients you might be inspired by. Use the broth as your base and play around from there.
As I mention up above, if I'm treating this like a one bowl meal, I'll toss in some tofu (smoked or browned in a skillet) and some shredded chard as well. Heat alert: I call for 1 teaspoon of spicy red chili powder at the beginning of this recipe - keep in mind that some chile powders are stronger than others. If you (or your family) are worried about the soup being too spicy, scale back. The worst thing you can do is make the soup too spicy too early in the process. If you start out light, you'll be able to adjust the amount of spiciness toward the end. If you like your soup spicier, add more chile powder toward the end. One last note, this is another soup where seasoning is so important. If you haven't seasoned it properly with salt, it is going to taste very flat.
6-8 corn tortillas, cut in half and then into matchstick-thin strips
a big splash of extra virgin olive oil
fine grain sea salt

20 small yellow or red cherry tomatoes

another splash of extra virgin olive oil
3 cloves garlic, chopped
1 large white onion, chopped
1 teaspoon ground cumin
2 teaspoons ground coriander
1 teaspoon cayenne or other spicy red chili powder
1 14-ounce can crushed tomatoes
6 cups vegetable broth (or water)

a few sun-dried tomatoes, chopped
1/4 cup of goat cheese, crumbled
Gently toss the tortilla strips with a glug of olive oil and salt. Turn them out onto a baking sheet, arrange them across the pan and bake in a 350F degree oven for 10 minutes or until golden and crispy. Set aside.
Halve (or quarter) the tomatoes lengthwise and put them in a small roasting pan, oven proof dish, or rimmed baking sheet. Toss with a bit of olive oil and a pinch or two of salt. Bake in a 350F degree oven for 40-45 minutes (less time if you use smaller cherry tomatoes), or until the tomatoes are shrunken and golden around the edges. The tomatoes keep nicely in a jar for days (refrigerated), so you can do this part in advance if you like. Set aside.
Now for the soup itself - in a big pot over medium-high heat cook the garlic and onions in a splash of olive oil along with a couple pinches of salt for just a minute or so. Stir in the spices and then the tomatoes. Cook down for about five minutes or so, it should thicken a bit. Remove from heat, add one cup of the broth and puree with a hand blender (or puree in a traditional blender). Add the remaining 5 cups of broth and puree until smooth. Bring the soup back up to a simmer and cook for another 10 minutes.
Serve the individual bowls topped with plenty of tortilla strips, the roasted and sun-dried tomatoes, and some crumbled goat cheese. Alternately, as I mention up above, you can finish with sliced avocado, cilantro, white onions, and a squeeze of lime. If you like a creamier soup base add a splash of half and half, or stir in some extra goat cheese.
Makes about 6 servings.
Provecho!
-pics, article and photos via here